Flophouze Shipping Container Hotel in Texas
As its name suggests,  Flophouze is the ultimate hotel for weary travelers looking to settle down and relax for a few days in a truly unique destination. Set in the middle of a beautiful open green field in Texas, each room is constructed from a repurposed shipping container that has been modified into a quaint rustic dwelling. 
This is the second installation of such a round top Texas shipping container hotel by Matt White and his staff at "Recycling the Past". This creative new concept is an excellent example of how we can help our environment by utilizing materials, such as used containers, to create fire pits and other stunning and useful.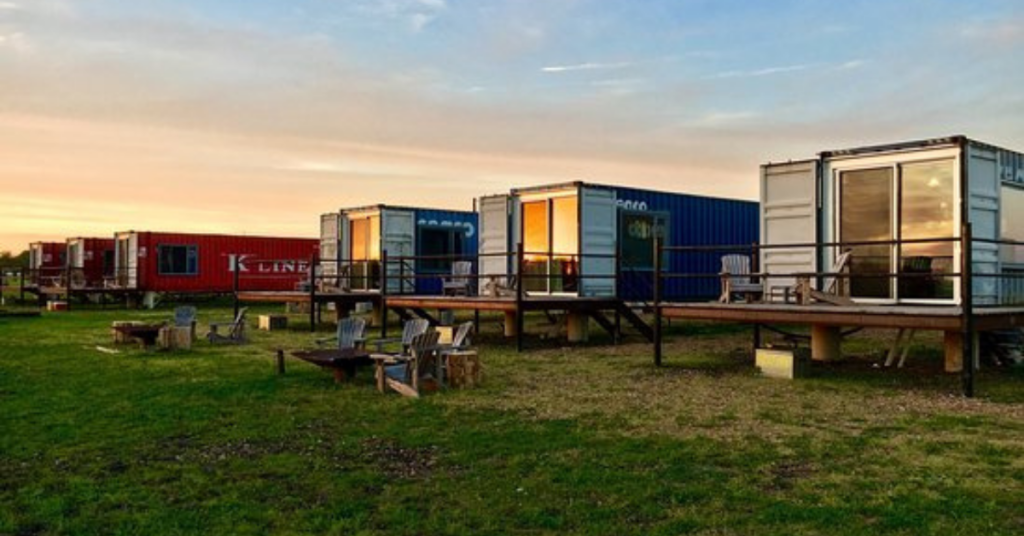 Even Houze's decor is one-of-a-kind because it too has been designed using recycled items. You'll find decor made from salvaged laboratory base pieces from Brooklyn and countertops that were constructed from the old bowling alley and railway car floors in Texas. Every container room at Houze has its own distinct culture thanks to Matt's quest around the planet in search of recycled gems.
Flophouze is a place to disconnect from electronics and social media. You won't find computers or televisions here, instead, every room is equipped with a record player and a handpicked collection of vinyl for your listening enjoyment or fine books to be read at your leisure. The Owner believes in the power of friends, a good book, and an old song to nourish one's soul. So relax and disconnect from the commotion for a well-deserved rest.
The Flophouzes are available for both short-term and long-term rentals, as well as for sale. Find out more about making a reservation here.
If you want to make your own cozy Hotel made with used or new shipping containers, contact us at (888) 405-8772. We have a large selection of used and new containers in Texas ready to ship anytime.
On-Site Storage Solutions
On-Site Storage Solutions has the perfect storage solution for you if you're looking for a shipping container that is both flexible and cost-effective. Our wide range of shipping container sizes can be purchased or rented, and we also offer financing programs to make them more accessible to our clients. With over 60 depot locations across the USA and Canada, we provide fast and reliable delivery.
To start your shipping container project, give us a call at (888) 405-8772 to learn more about our rates and how we can help you find the perfect container size for your needs.