Expanding your business by shipping goods across international borders can be a thrilling and rewarding experience. However, it requires meticulous planning and execution to ensure everything goes smoothly. Here's a comprehensive guide on how to ship containers between countries safely and efficiently:
Firstly, What is Ocean Freight Shipping?
Ocean freight shipping is the process of transporting cargo by boat across international borders. It's an economical way to move large amounts of goods worldwide and is widely used by businesses of all sizes.
What Are The Different Types Of Ocean Freight Shipping?
The two main types of ocean freight shipping are FCL (Full Container Load) and LCL (Less than Container Load). A FCL shipment is when cargo occupies the entire container and is generally used when shipping large quantities. An LCL shipment is when several different customers' cargo are consolidated into one container, which is more cost effective and is ideal for those shipping small cargo loads.
What Do You Need to Know Before Shipping a Container Internationally?
There are 2 main methos for shipping cargo overseas – Shipper Owned Container (SOC) and Carrier-owned container (COC). Let us take an inside look at the distinctions between these two popular choices.
A. Shipper-owned Container (SOC)
This is the most cost-effective option for shippers who are shipping large quantities of freight or have a regular need to ship cargo overseas. In this case, you will purchase or rent your own container, which will then be loaded with your cargo and transported to its destination on board a vessel.
Steps on How to ship internationally using your own container (SOC)
Find a Freight Forwarder

–  One of the first steps in international container shipping is to find a reliable freight forwarder who can provide you with customized solutions, tailored to the needs and demands of your shipping needs. These directories are a good place to start searching.

https://www.iata.org/en/publications/directories/cargolink/directory/

Get a quote

–  After submitting your shipping details and requirements, you will receive a quote that includes the cost of transporting your container.

Purchase a Shipping Container – To acquire a new or second-hand shipping container that is in cargo-worthy condition, locate reliable resellers like On-Site Storage Solutions close to your pickup spot. It's important to pinpoint one near you since these containers are large and heavy and can be costly to deliver without any load. Save money by choosing the closest option.
Not sure what type of container is suitable for your shipment? Don't worry, we've got you covered. Click on this

link

to determine which option best fits your needs!
Independent Survey inspection

–  For as little as $150, shipping lines will require you to obtain an inspection report and updated CSC sticker using a network of certified IICL inspectors.

On-Site Storage Solutions

provides these services worldwide to make sure your shipper-owned containers are independently inspected prior to shipment. Don't forget that the customer must have both the inspection report and CSC sticker ready before they can ship their cargo!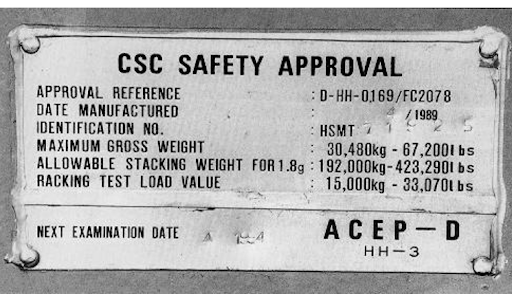 Pick up and delivery

– In most cases, freight forwarders will transport the container to your specified pick-up location using a chassis trailer. If you are able to perform a 'live' load and unload process swiftly, the driver will wait while it is done before returning it back to port for export. For more extended loading periods, they can leave the container on their own trailer and return in several days if needed; however, this could incur an additional cost depending on arrangements made.

Customs Clearing

–  A freight forwarder should be able to assist with any documentation needed for customs clearance, as well as payment of duties and taxes related to the shipment.
B. Carrier-owned Container (COC):
This is a great choice for those who require smaller volumes, have an irregular or one-time need to ship overseas or have limited resources or working capital. In this case, the carrier will provide you with a container that is included in their freight rates.
Steps on How to ship internationally using Carrier-owned Container (COC)
Find Freight Forwarder

– Shipping lines typically partner with freight forwarders, who act as intermediaries between the shipper and carrier. In other words, they are like freight brokers.

Get a quote

– The freight forwarder will provide an accurate estimate of all shipping costs, ensuring that you get the best value for your money.

Pick up and delivery

– The freight forward will usually deliver the container to where you want it with a container chassis. If you can load it right away, the driver will wait until you finish and then take it back to the port for export. If you need a few days, they will leave the container on the trailer and come back later. You can also ask for more time or have them leave it on the ground but that costs extra.

Customs Clearing

–   The freight forwarder should be able to assist with all the paperwork and other documents needed for customs clearance, as well as payment of duties and taxes related to the shipment.  
How to Track Your Container
Depending on the shipping line, you can easily keep an eye on your container's whereabouts simply by tracking its number.  Once the container has been shipped, the carrier will provide you with a tracking code. Just type it in the search bar and you can view its progress every step of the way. You may also receive updates from your freight forwarder on when to expect arrival or any other delays.
What Are The Benefits Of International Container Shipping?
The main benefits of international container shipping are its cost-effectiveness, safety and reliability. Ocean freight has some of the lowest rates among all the different shipping methods, and can be tailored to suit a range of budgets. Additionally, goods are secured inside containers for the duration of the journey, so they arrive safely and in the same condition they were sent.
International shipping doesn't have to be hard or costly. With the right strategies and execution, you can make sure your cargo arrives on time and in good condition. You also get to choose between COC (Container on Container) or SOC (Shipper's Own Container), providing you with a simpler decision-making process for all of your overseas shipments.
On-Site Storage Solutions
On-Site Storage Solutions offer significant benefits for individuals and businesses seeking Container Survey and CSC (Container Safety Convention) safety approval to use their containers for international shipping. Reach us at (888) 405-8772 to get started!