In today's diverse economy Freelancers have become a vital component of the labor force. More and more people, especially post-pandemic, stopped reporting to traditional offices and now have the opportunity to work remotely from home.
The income gap between freelance workers and full-time employees has essentially closed and there is money to be made in both types of employment. Many prefer freelancing where work hours and location are flexible. However, many freelancers report that they often become restless working from home and are easily distracted without a supervisor looking over their shoulder, driving, and demanding productivity. 
Many reports working longer hours than they would normally spend in an office. And although they have no desire to return to an office setting, finding a location to work separate from home would be the ideal situation. Some small business coffee shops have decided to provide them with a high quality and comfortable workspace by converting recycled shipping into new shipping container coffee shop! BRASH Coffee is one such location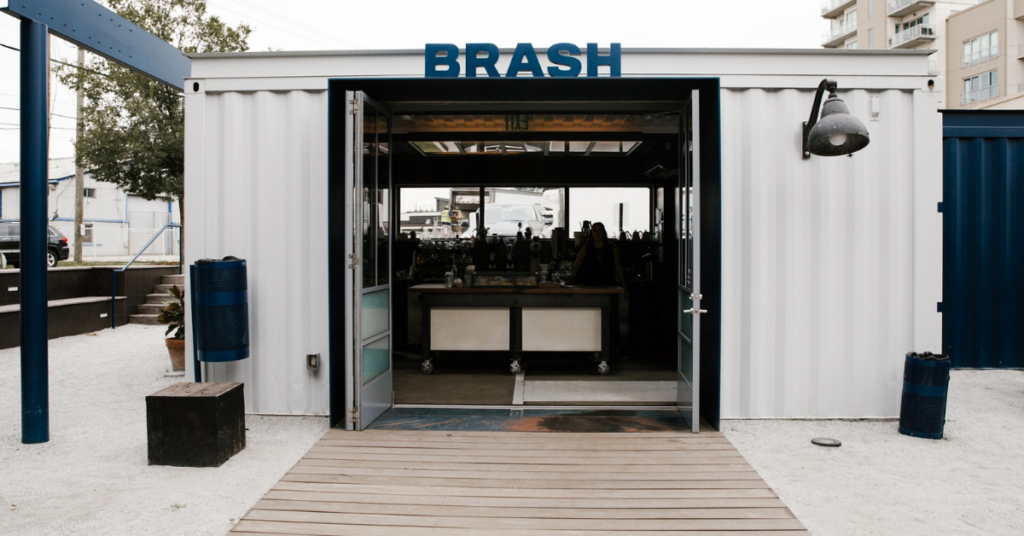 BRASH Coffee is a popular choice for a cup of coffee in Atlanta. It's located at 1168 Howell Mill Road, Atlanta, GA 30318, adjacent to Yeah!Burger. The coffee shop in shipping container design is basic: It's constructed from a 20-foot shipping container that has been converted into a cozy shipping container cafe ideal for a quick cup of coffee or comfortable enough for freelancers to plug in and work for the day. Unlike many chain coffee shops that discourage people from staying all day, BRASH welcomes freelancers and makes it convenient for them to have a productive day.
The room is a bit tiny but bright, comfortable, and welcoming. There are only five metal stools tucked beneath a high-top wooden slab on one side. Outside, on dusty gravel, stands a huge L-shaped communal table with low benches.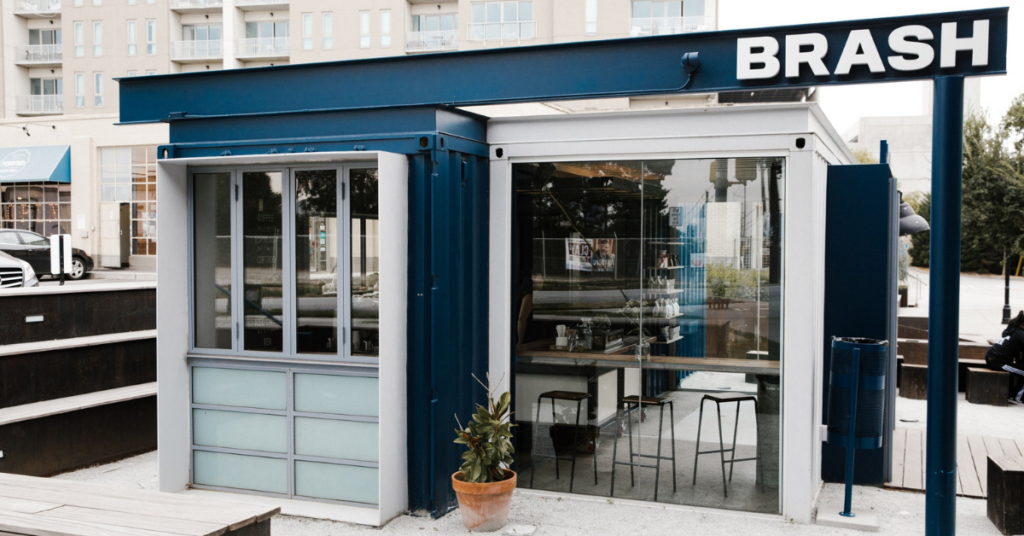 Most of BRASH's customers prefer to take their coffee to go, whether it's parents with their kids in strollers on their way to the park for a playdate or young professionals on their way to work at the office. Others are simply stopping in for a nice cup of coffee and trying to get away from the city noise and heavy traffic.
BRASH's most popular item is their iced coffee, which many patrons enjoy with a delicious baked goodie like a croissant or a brownie. BRASH's coffee is smooth and appeals to both the occasional coffee drinker and the coffee connoisseur. So, If you live or are visiting the area soon, check out their menu here. It's one of the most popular and successful coffee places in the area.
On-Site Storage Solutions
Are you searching for adaptable and economical options for your groundbreaking ventures? Your quest ends with On-Site Storage Solutions. We offer a broad range of shipping container dimensions for purchase or lease, accompanied by adjustable financial packages to suit your budget. 
Our expansive infrastructure, boasting over 60 depots throughout the USA and Canada, guarantees swift and reliable delivery. Dial (888) 405-8772 to learn more about our pricing structure and kickstart your partnership with us.