Shipping Containers, usually used to transport goods, are now being repurposed to create personalized shipping container gyms in Houston called MyContainerGym.
The idea for the container gym arose during the pandemic when the owners, April Coker and Adam Dillaplain, were looking to create a safe workout space for their clients that complied with the pandemic safety requirements. 
While public gyms were closing their doors or trying their best to create outdoor gyms for their clients and more and more people were begrudgingly working out at home or just stopped working out altogether, these two workout gurus came up with the brilliant idea to create these safe container gyms that would allow their clients to get a quality workout using proper gym equipment like squat rack while at the same time staying safe from COVID-19.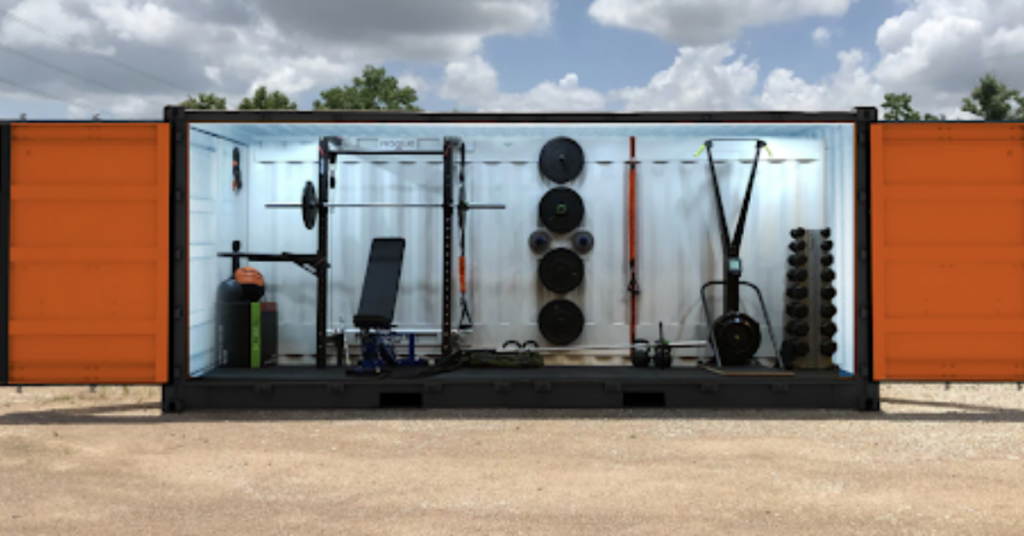 Having this in mind, people will be able to work out privately with this personal training facility/gym which allowed clients to build their own gym inside of their container customized preference. MyContainerGym has been coined as the 'uncontainerized container gym' because it uses containers that have not been modified to serve other purposes. It is a one-of-a-kind idea, and it is the first time that containers have been used to construct this type of establishment.
The gym is made of up-cycled shipping containers that have been used as a form of storage for almost two decades. Cleaning the 'uncontainerized container' is not difficult at all since they are exposed to sun light every day that will kill most microorganisms on the outside though it is not entirely pest-free. 
Rodents are still present inside which they must deal with by trapping or poisoning. There are no doors for the container gym, so the owners thought of constructing a gate that would keep out unwanted entry while allowing members inside to move in and out freely.
The company also makes sure that the containers they use are properly washed and whitewashed to avoid any form of contamination. They have also considered installing large windows for people inside can see what is happening outside and allow them to monitor their own safety. Concrete floors, on the other hand, were used because it is easy to clean compared to carpets or wooden flooring. 
Moreover, it has no air conditioning or heating system. This is because the constant opening and closing of the containers let in fresh air from outside so there is no need for a cooling and heating system.
The Container Gym currently has 5 shipping containers that can serve as a workout space. Each container has 20 feet in length, 8 feet in width, and 8 feet in height with the ceiling reaching up to 14 feet from the floor. 
There is also an additional container where members can relax and take a break. This container also has a bathroom that is around 8 feet by 8 feet. Each container gym is fully equipped for a person's total body workout, and it can be deployed as a standalone unit without the need for street power for it can be plugged in to your home's existing electrical service. 
This is also great for all climates for it can be utilized both indoor and/or outdoor depending on the clients' needs and preference. This Container Gym is the first gym where containers are turned into a workout space, making it unique and convenient for members. Members can exercise at their own pace without worrying about noise disruption or cooling systems that are usually found in other gyms.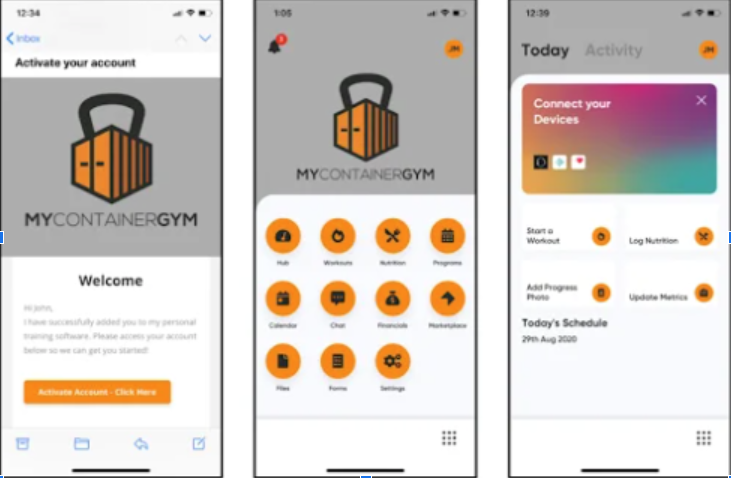 The gym has been mostly advertised on the internet through their website and Facebook page. The company also holds monthly gatherings to introduce themselves and to let people know that they exist. They advertise using various social media platforms and sites like Facebook, Instagram, YouTube, Pinterest and even Google+.
They also have a blog where they share workout ideas and account for their daily routine. Moreover, if a client purchases a MyContainerGym, a free access to its app will be given that will load a complete workout program or the client needs. There will be video demonstrations and a detailed description and/or instruction as to how to do a certain exercise for the client to be still guided after the purchase. For sure, the individual who bought a MyContainerGym will be able to achieve his fitness goals after an extensive workout session.
This business fills a need in our society today. People want something new and fresh, and this certainly fits that bill. Being environmentally conscious is another thing that many people are doing these days and what better way to go green than to build a gym that contains recycled materials? It's fun too!
This concept gives people in various areas of the world an opportunity to join in on something that has never been done before. Feel free to reach them out through their website at mycontainergym.com.

On-Site Storage Solutions
Are you searching for affordable and flexible shipping container? Look no further than On-Site Storage Solutions! We offer a wide range of shipping container sizes available for purchase or rent, along with financing programs to make them even more accessible for our clients. With over 60 depot locations throughout the USA and Canada, we guarantee fast and reliable delivery. Contact us at (888) 405-8772 to learn more about our rates and start your shipping container project today.