Shipping Container Yoga Studio
Blue Space offers both group and private sessions. They also offer both instructor lead or self-guided classes. The shipping container studio is equipped with a small deck and two staircases, an external staircase for easy access to the water, and an internal one for easy entry into the shipping container yoga studio.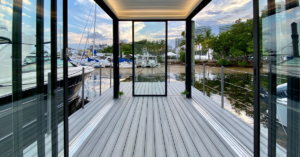 Blue Space has managed to take ordinary recycled shipping containers and transform them into extraordinary spaces. The modifications include the removal of doors to allow for maximum visibility, the metal sides have been replaced with floor-to-ceiling plexiglass sliding doors and walls so the clients can enjoy an uninhibited view of their magnificent setting.
Due to high demand Blue Space now offers additional activities outside of their yoga classes such as "Picnics on the Water", "Sushi on the Water", and private meditation. The containers are also available for rent for private use for date nights, birthdays, photoshoots, or any special occasions. Blue Space containers on the water are one-of-a-kind installations currently only available in Miami thanks to its forward-thinking, environmentally conscious creators.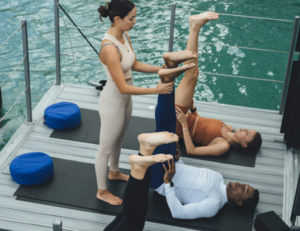 The owners of Blue Space wanted to inspire people to respect and conserve nature and to protect the environment. They chose to utilize Shipping containers not only for the cost-effectiveness they provide but most importantly, it was their way of giving back to the environment by recycling a container rather than using traditional construction materials.
At Blue Space, they are fully committed to their cause and have decided that the proceeds from every booking made at Blue Space will go directly to support the Live Blue Foundation's Vision of a World where everyone has access to the cognitive, emotional, psychological, social, physical, and spiritual health benefits. 
People will be able to improve their own personal wellness and break the cycle of stress. Blue Space members receive special and discounted rates with their local partners. The new activity being offered in Miami is fun for people of all ages. It is a safe way to explore the ocean and learn more about water sports activities. All their yoga instructors are also certified through Yoga Alliance. They have put together an educational team committed to working together on bringing the best experience possible to Miami.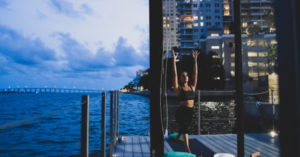 Blue Space wants everyone to feel welcome to join them for an unforgettable experience. They are looking forward to sharing the containers with the public by offering something new and exciting that can bring different communities together. The company believes it is important to connect people through their cause thus encouraging everyone to live a healthy lifestyle while caring for our planet at the same time.
Appointments can be made through their website for yoga classes and private bookings. Be advised that spaces fill up quickly and people are encouraged to join their exclusive membership which offers unlimited and priority booking and exclusive rates.
On-Site Storage Solutions
For those in search of a versatile and economical shipping container, look no further than On-Site Storage Solutions. We provide a broad selection of shipping container dimensions, available for purchase or lease, supported by our accessible financing options. 
With our expansive network of over 60 depots throughout the USA and Canada, we ensure swift and dependable delivery service. To commence your shipping container endeavor, reach us at (888) 405-8772 for information on our pricing and assistance in determining the ideal container size for your specific requirements.