Shipping Container Graffiti
Used shipping containers have always served all sorts of useful purposes such as storage, transportation, and shelter. Recently, because of their portability, durability, and low cost, artists have been using them to create amazing street art.
Graffiti and contemporary artists all over the world who have historically utilized sides of buildings or bridges or street signs to express themselves artistically are now turning to shipping containers as blank canvases. The popularity of painting on shipping containers has given rise to incredible art. The East River development in Houston is one excellent example. On the exterior of public containers, Artist David Maldonado has created a magnificent work of art on the site of Midway's East River development, utilizing six cargo containers and spray paint.
The East River mural, inspired by the surrounding historic Fifth Ward and East End areas, "symbolizes the power of the bayou and its capacity to connect with different communities together.
The wall at the intersection of Bagby and McKinney Streets in Houston,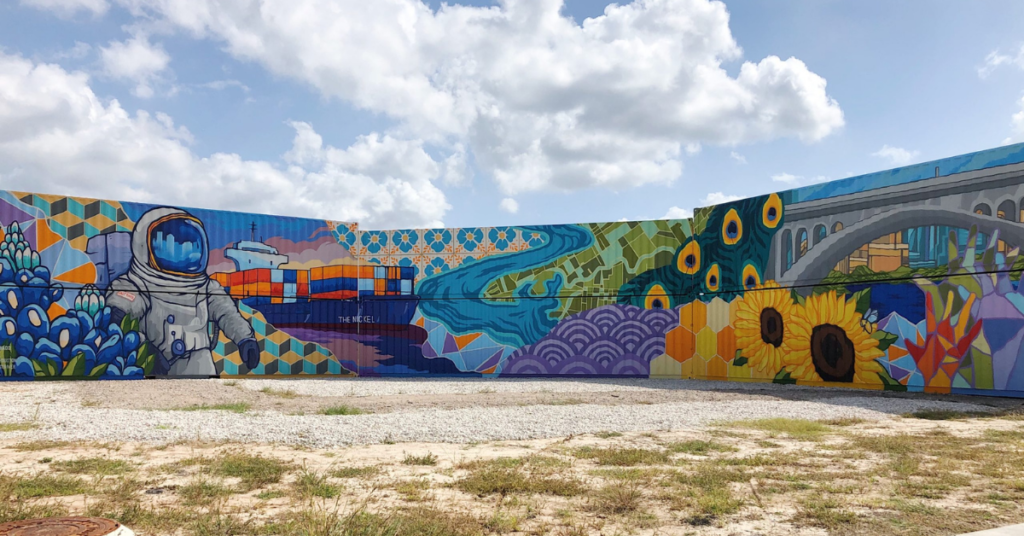 Texas, features a large mosaic mural with blue beehives depicting sustainability and wellness. An astronaut acknowledging Houston's ties to NASA, as well as Mosaic tiles, beehives promoting sustainability and wellbeing.
As the leader of Houston's creative community, Maldonado is known for his vibrant colors, intricate designs, and ability to bring diverse groups together through art. In his work, he takes inspiration from folk art, street culture, and the Mexican muralist movement for a well-known style that has led him to collaborate with companies and organizations such as Adidas, Jack Daniels, NASA, and more. Maldonado is also the founder of Pan Dulce HTX, a monthly creative gathering open to the public of Houston in collaboration with local artists, musicians, and non-profit organizations.
If you're looking for a cost-effective yet sturdy canvas for your next artistic endeavor, contact us at (888) 405-8772. We have a variety of used and new containers available in Houston, Texas.