Cities throughout the US that are experiencing a large amount of homelessness are struggling to find the perfect solution for the ever-growing problem. Building safe, clean, and affordable housing that can withstand the elements has been at the forefront of the issue. Creating housing for the homeless and obtaining funding is often a slow-going process, but the design and build team in Los Angeles may have discovered a solution to the building problem. They've created a modular development for the homeless that they claim is cheaper and faster to construct.
The Alvarado project, which is located at 166 S. Alvarado St. in Los Angeles, is a modern five-story shipping container shelter building constructed of pre-designed steel modular units that were craned, stacked, and fastened together like giant Legos.
The construction site, located on a concrete base, measure eight feet by 45 feet and are fitted with customized interiors and finishes. They're being put together to create studio and one-bedroom apartments ranging from 400 to 480 square feet in size.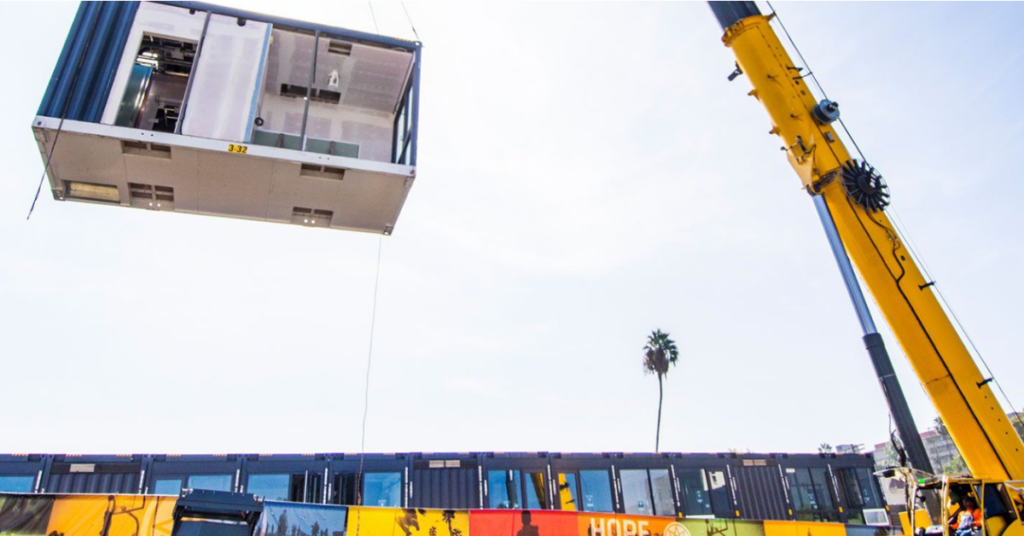 Exterior and interior drywall and tiles, as well as floor-to-ceiling windows and fixtures, are installed off-site. The roof kits and steel frame modules are linked together to create a structure with 84 studio and one-bedroom apartments.
The housing project, which was developed and opened in early 2020, was made with a collaboration between HBG Construction Corp., KTGY Architecture & Planning, and Aedis Real Estate Group. This is the first of many "Hope on Alvarado" projects this group is planning to construct in order to help combat people living homeless. We'd like to congratulate the entire team on this homeless shelter shipping containers outstanding project. We are excited about your future tiny house modular/container projects.
On-Site Storage Solutions
Attention businesses in need of wholesale or bulk shipping containers in Los Angeles! On-Site Storage Solutions has got you covered with our unbeatable discount rates. Whether you're building a shipping container shelter, creating a storage facility, or looking for an innovative solution to your business needs, we have the containers you need at prices you can afford. Contact us today at (888) 405-8772 and let's discuss how we can help your business thrive with our top-notch shipping containers. Don't wait – take advantage of our incredible deals and start your project today!