How to Convert a Shipping Container into a Coffee Shop
If you're thinking about opening up your own coffee shop, here's why starting with a shipping  container may be a great idea. Shipping containers are the perfect size for a quaint coffee shop. Both the 20' and the 40' containers would give your coffee shop that cozy comfortable feeling that would make your patrons feel at home while enjoying their coffee drink. Unlike traditional retail spaces, shipping containers are mobile. It's relatively easy and inexpensive to relocate a shipping container, so you can take your business wherever the market leads you. Finally container shops are cost-effective. The cost of converting a shipping container into a shipping container cafe is less than building out a brick and mortar retail space. 
1. Begin by creating a well-defined business plan.
Starting a business may seem overwhelming however, the most essential requirement for starting a small business coffee shop, or any other business, is to have a solid plan in place. One of the greatest reasons for creating a business plan before opening your coffee shop is that it will help you get organized.
The more descriptive and comprehensive you make your business plan, the easier it will be to stay on track when you're trying to execute. A strong business plan will make it simple for you to go from paper to a successful, lucrative coffee shop company.
2. Consult with a professional financial advisor.
After you've come up with a strategy, it's time to look at what a financial expert has to say about your spending plan and coffee shop company financing. An accountant or a financial advisor can help you plan your budget and obtain the funding you'll need to begin your venture.
3. Finding a suitable/ideal location.
Opening a coffee shop is a significant investment, and you want to make sure you find the right location for your new business. Look for an area that will provide the ambiance you desire. Also, examine the neighborhood carefully. You must first understand your target market as well as any local competition. 
Consider how easy it is to reach your location. These are some questions to consider when deciding on location. What's the traffic situation like in the area? Will your location be easily accessible? Is there much foot traffic in the area? Are there office buildings or businesses in the area that are in need of your type of business? What is the parking situation in the area? How much will you pay to rent the space? Is there power accessible or will you need a generator? Is the space available to you? Is the location visible to potential customers?
4. Find a reputable shipping container company.
Look for leading wholesalers of new and used shipping containers that can provide you with the best discounts. These companies offer a range of high quality shipping containers in a number of sizes, shapes, conditions, and quality levels. Some of them offer "You Pick" containers where you can see the container photos and inspection detail reports so you know what to expect. If you're starting out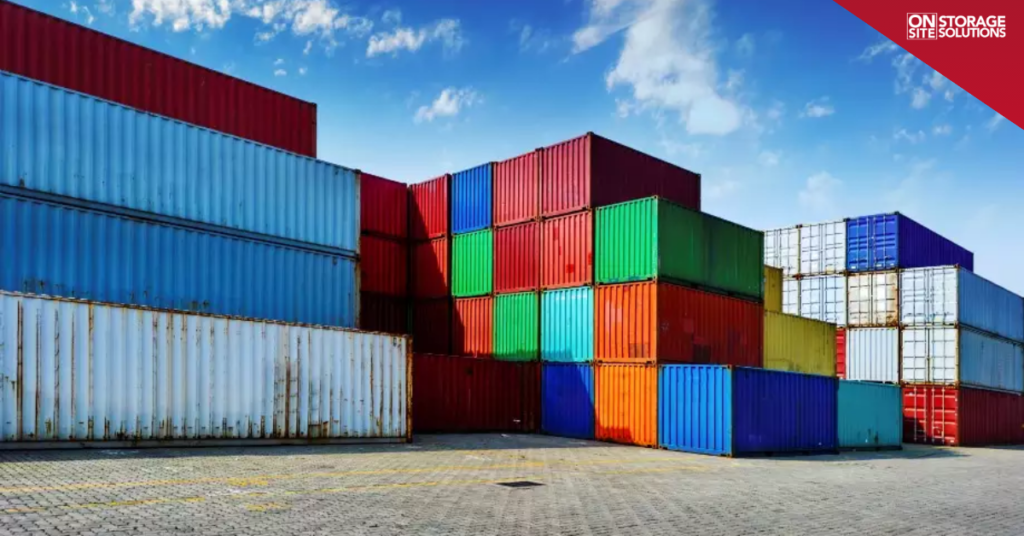 Purchasing a container is just the start. There are several factors to consider when designing your coffee shop including what type of doors or windows you desire, or the type of lighting that will give the ambiance you are trying to attain. Customizing your shop requires skilled and experienced fabricators. Make sure your container provider can also assist in the modification process. Some container providers also offer container modifications.
A great example of a full service provider is On-Site Storage Solutions, which can assist you in not only choosing the right container for your project, but also with modifying your container into the coffee shop of your dreams. They will be there for you every step of the way, whether you need customized shelves, windows, doors, paint, lighting and electrical etc. Their expert fabricators have the knowledge to ensure that your project is completed to your specs.
6. You'll need some equipment to start.
The majority of coffee shops create the finest possible coffee by using ground beans and coffee machines, therefore adding an industrial grinder to your café's equipment list is a must. There are several items on your equipment list you might want to think about when investing, since they may make all the difference in the taste and aroma of your coffee or espresso. Here's a full list of equipment to think about.
7. Make sure you have a solid online presence.
Without enough advertising, there's no way to be sure your coffee shop will be a success. It is an essential component in of the growth of a successful company that draws potential consumers on a regular basis.
Be sure to have a well-thought-out plan for launching your business. This should include a marketing plan for both a "soft" and a "grand" opening. A "soft" opening will limit the number of customers you serve so you have a controlled environment to help you work out any operational issues that may arise. Once you have a successful "soft" opening you are ready for your grand opening where you open to the public. Hiring or consulting with a brand management company that can assist you with your marketing plan is key to launching your business successfully. Look for a marketing company with successful online marketing strategies that can help you maximize your online presence.
These are the steps you should follow in planning your unique shipping container coffee shop:
Create a business plan that will outline your steps from start to finish.

Consult with a business advisor who will help you understand your startup investment needs as well as the operational costs of doing business.

Find a reputable container supplier that will help you purchase the perfect container for your project at the lowest cost possible.

With the help of your supplier, design your container coffee shop and decide on the modifications you will need to make your vision come to life.

Purchase equipment for your coffee shop.

Make a marketing plan that is sure to have a strong online presence.
Starting your own coffee shop may seem like a daunting task, but if you follow this easy 6 step plan your dream will become a reality in no time.
On-Site Storage Solutions
Looking for flexible and cost-effective solutions for your innovative projects? On-Site Storage Solutions is the answer. We provide an extensive variety of shipping container sizes for sale or lease, backed by flexible financial plans to keep them within your budget. With a robust network that includes over 60 depots across the USA and Canada, we ensure prompt and dependable delivery. Call us at (888) 405-8772 to get more information about our pricing and begin your journey with us.